200+ "Heads-Up Display" Infinitely Sizeable On-screen Keyboards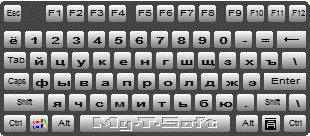 ABCD Alphabetical, QWERTY, 3 DVORAK's, and over 200 International layouts [Chinese, Japanese, Korean, German, Spanish, French, Hebrew,
Russian (shown right in size 8), Greek, etc.] with Edit and Numeric panels.
Minimize Keystrokes, Mouse Clicks and Menu Selections thru panels




Macro Panels can store up to 2000 keystrokes/menu selections (or application executables or macro scripts) on each button.
Up to 15 buttons can be grouped on a Panel, which can be set to auto-open when the assigned application becomes active.
An infinite number of panels can be nested and called from other panels or IMG's SDK Developers Integration Kit.

Shown Left (far): My-T-Soft with standard Macro panel.
Shown Left (near): My-T-Soft with a Macro panel, customized color option.
Shown Right (near): My-T-Soft with standard Windows panel.
Shown Right (far): My-T-Soft with Windows panel, customized color option

Assignable on-screen Functions for Pointing Device Buttons
Assign any of 63 different functions to each button. Popular keys such as Shift, Esc, Enter, Ins, Ctrl, etc, can be assigned at anytime
Pop-Up on-screen Calculator with pop-up Tape and Send Function
A standard 4 function calculator with memory, that always stays on top, has its own pop-up Tape and Send function that places the display information right into your current document or field.

Built in Magnifier
If necessary, a built-in Magnifier panel can display a magnified view of the current area (mouse cursor as center).
An On-screen Keyboard that's Developer friendly
Show & Hide keys, program keys in Key Options, Custom logo display, Operator mode, on-demand functionality. The Developer's Kit comes with all kinds of utilities, source code, sample code, and a wealth of information for integrating My-T-Soft with your own application.

My-T-Soft On-screen keyboard with Show & Hide keys and custom logo over tool bar.
Customized on-screen Colors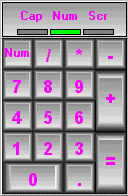 From Left: Num Keypad with custom colored text, My-T-Soft on-screen keyboard with custom colored background and control panel open. Color Support includes: Button text, Button face, Button highlight, Button shadow, and Keyboard background.
Want Customized Painting?
Use My-T-Soft with the Developers Kit!

(Using the Developer's Kit with 1.78 Release 3 or newer - with My-T-Pen, Soft, or Touch, you can modify the default key background, paint the key background, and paint the key labels. By using internal key values & keyboard info, you can do small scale modifications, or large scale modifications to the visual display of the on-screen keyboard!)
Build-A-Board Virtual keyboard and keypad Samples
IMG's latest release of My-T-Soft, My-T-Pen, and My-T-Touch allows you to use custom on-screen keyboard layouts created with IMG's Build-A-Board Virtual Keyboard Designer.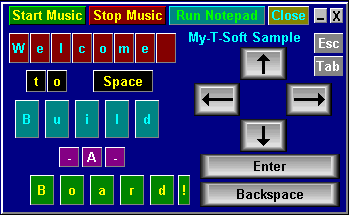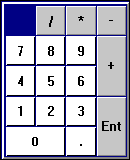 Seamless operation from Touch screen, Mouse, Trackball, Pen, or any other pointing device

Microsoft Windows 8 / 7 / Vista / XP / 2000 Compatible

Workstation / Network Logon Options

Developer Tool Kit and Extensions

Developer examples of integrating into existing applications

Supervisor / Operator Modes

Show & Hide Keys

Selectable Sizes

Realistic 3D graphics

Infinite Sizing

Support for Build-A-Board layouts - completely customizable user interface

11 panels, individually selectable, or create your own with Build-A-Board

Great for editing - Quick & Easy!

Special Windows Short-cut Keyboard - Power Users Dream!

101 & 104 key layouts

Multiple Keyboard Layouts with ABC Layout for Non-Typists

International support - numerous keyboard layouts from around the world

Create Macro Keys & Panels

Specific Key & Key Combination Enable / Disable

Attach Executable programs to Keys & Key Combos or Window Activation

Includes the Calculator with Calculator Tape & Send Feature

Time & Date Display

Memory, Disk Space, Resources status Display

Completely Configurable for all of your needs

Built-In Magnifier

Color-code Panels for easy identification

On-line Quick Help for First-Time Users

Minimizes to a Button for convenient access

Once you use it, you won't want to live without it!

Keyboard not required (Just Say No... to your Keyboard.)

End-user and Developer Support
Technical Information
My-T-Soft is a standard Windows Application and does not require any special drivers. It should work with all pointing devices (mouse, touch screen, pen, HID, etc.) interfaces, along with keyboard and mouse emulation drivers that are compatible with the ones that ship with Microsoft Windows.
There are countless configuration options, settings, and special features available that have been added by customer requests since the original product release in 1993. Refer to the User's Guide for release specific technical notes, product options, and complete documentation.
Order
My-T-Soft Professional License Suggested Retail Price (Quantity 1) with 1 year full support is US $99.95

Just want to license electronically? Download and install the software, then click on "Purchase License Now" from the software's License Manager!
Corporate Enterprise Licensing

Single-Site Enterprise 250 (Keyless, Image Ready Licensing, on-going maintenance - 250 Users) - $5,000.00US
Multi-Site Enterprise 500 (Keyless, Image Ready Licensing, on-going maintenance - 500 Users) - $7,500.00US
Multi-Site Enterprise 1000 (Keyless, Image Ready Licensing, on-going maintenance - 1000 Users)- $10,000.00US
Larger or Global Enterprise (Keyless, Image Ready Licensing, on-going maintenance - Unlimited Users) - Please Contact IMG Sales
OEM / VAR / Resellers - Please Contact IMG Sales