IMG KnowledgeBase & Frequently Asked Questions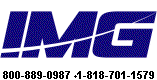 ---
Search FAQ's


Searching for ID: QL0105120441
QL0105120441
What are my licensing options? How does Build-A-Board licensing work? What is a Build-A-Board Platform License?
Standard retail product is licensed per system, either electronically or via Certificate of Authenticity. However, IMG has numerous licensing schemes available. Please contact IMG directly to discuss your needs.

Build-A-Board is the tool / builder to create and customize keyboard layouts. The run-time target is the actual device that you will run the keyboard on. There are 2 main ways that you can license keyboard layouts - per device (using a Build-A-Board.com Web Account), or using a Platform license (see below). The per device approach is mainly for individuals or small deployments where the need to license each device isn't a major impediment (if licensing hundreds or thousands of devices, this becomes burdensome). Once you have your e-mail/password for your Build-A-Board.com web account, you can Apply available licenses to any device (or purchase more licenses from your account). To license a device, install the appropriate run-time software, and go through the Settings / License Manager to attach the device to your account, and retrieve a device license. Once your target device is licensed, it will remain licensed and allow custom keyboard layouts to run without any limitations. You may manage licenses from within your Build-A-Board.com account - if a device is destroyed or lost, it can be put out of service to release a license.

The Build-A-Board Platform license is a way to license Build-A-Board so every keyboard layout generated by the Build-A-Board Builder is already licensed - this makes deploying layouts as easy as possible! You just need to distribute the .KBF (KeyBoard File) that has the layout data to your device, and it will run as a licensed - it doesn't get any easier than that! The Platform indicates which run-time software recognizes the license, e.g. Android, or Windows, or Linux, etc. This does mean that a KBF built for Android will not be licensed on a Windows device, and vice versa. Platform licenses can be combined, and the IMG Techology License is also available for larger companies to have access to all available IMG software. There are different tiers available based on the number of devices to be licensed, and IMG Technology Licenses do require annual maintenance as part of the license. There are also OEM bundle and Distribution type licenses - please contact IMG to discuss your needs.

Original ID: QL300312
| | | |
| --- | --- | --- |
| Category: Licensing | Type: Question/Answer | Product: General Issue |
---
Notes:
Depending on product, release version, OS version, and specific technical issue, some tech items are very specific, and some may span to other products/versions
Downloadable files can also be accessed by anonymous FTP at ftp://downloads.imgpresents.com
Older files are moved into a separate archive location - see notes/details/new location in *.archived.txt text file
---
---













As seen in ...