IMG KnowledgeBase & Frequently Asked Questions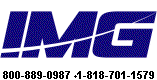 ---
Search FAQ's


Searching for ID: QC2108120583
QC2108120583
How does the licensing for The Magnifier work? Why is a System ID used when ordering?
The license is a "personal license" which means you can use the license key and registered serial number for unlocking any of the available downloads for the current version of The Magnifier. For example, if you have a laptop running Vista and a home PC running XP, a single license key will work for both (after installing the appropriate download of The Magnifier). Also, if you order the license on XP, and later upgrade to Vista, you will simply need to install the correct version for Windows Vista, then enter your license key and serial # to license. You may also install and license on a USB drive (using the appropriate download) using your license key and serial number.

The System ID contains product and version information, along with unique system ID. For IMG products that use a personal license, the unique system information is not used. The Magnifier license key and serial number provide a personal license, so multiple systems may be licensed for your own personal use.

The license entitles you to maintenance updates and support for the product and version (as indicated in the first 6 characters of your serial number). If a new version is released, and you wish to use this, you will need to upgrade to the new version. For example, if a new version of Windows is released, and The Magnifier is updated to run on this platform (and it is tagged with a new version number), then an update would be required (rather than a re-install and re-license using your license key).
| | | | |
| --- | --- | --- | --- |
| Category: Common | Type: Question/Answer | Product: The Magnifier | Version: 1.50 |
---
Notes:
Depending on product, release version, OS version, and specific technical issue, some tech items are very specific, and some may span to other products/versions
Downloadable files can also be accessed by anonymous FTP at ftp://downloads.imgpresents.com
Older files are moved into a separate archive location - see notes/details/new location in *.archived.txt text file
---
---