IMG KnowledgeBase & Frequently Asked Questions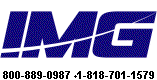 ---
Search FAQ's


Searching for ID: QC1205120341
QC1205120341
What about technical support and program updates?
Unlike shareware based or grant funded products, which cannot provide sufficient income to maintain a full-time company with adequate test and support capabilities (because the developer is holding down a full-time job, or the grant period ends), IMG has been providing onscreen keyboards and pointing device utilities since 1993. A large part of our business is in developing utilities that are ultimately bundled by pointing devices manufacturers under their own name. With international distribution on every continent, IMG's products are used by consumers, corporations, commercial and industrial manufacturers, educational institutions, and government agencies worldwide. This means quality products, with quality support, and timely updates.
Original ID: QC101255
| | | |
| --- | --- | --- |
| Category: Common | Type: Question/Answer | Product: OnScreen |
---
Notes:
Depending on product, release version, OS version, and specific technical issue, some tech items are very specific, and some may span to other products/versions
Downloadable files can also be accessed by anonymous FTP at ftp://downloads.imgpresents.com
Older files are moved into a separate archive location - see notes/details/new location in *.archived.txt text file
---
---













As seen in ...