IMG KnowledgeBase & Frequently Asked Questions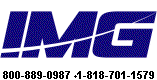 ---
Search FAQ's


Searching for ID: PU2109120604
PU2109120604
The Magnifier's reference window still appears even though it is disabled (Advanced Menu | Full Screen Options | Show Reference Window) after I hide, then show The Magnifier in the Full Screen mode.
In Windows Vista, the Display Cursor when turned off doesn't affect opening display of magnified cursor when The Magnifier is started.
When The Magnifier is hidden, menus go behind the taskbar (Vista), or leave artifacts (XP).
This is resolved in The Magnifier 1.50 Release 3 - if necessary, refer to the update "The Magnifier maintenance update for 1.50 Release 2" from the Check for Updates option in the Help menu. Be sure to close The Magnifier prior to installing this update. Here is a quick guide to installing this update:

From The Magnfiier Menu | Help | Check for Updates...
Click on the Check for Product Updates
(If on original 1.50, the option will be in the Recommended updates, but you need to be on Release 2 to apply this update)
If on 1.50 Release 2, scroll down and select The Magnifier from the listed products
In the available updates, select The Magnifier maintenance update for Release 2
Click Next
NOTE: The Magnifier will close when applying this update- you will need to restart it after updating.
Click Next to download and Install update
Click OK, the Finish

For manual updates, download, copy into Installation folder (/Program Files/The Magnifier), then run program (make sure The Magnifier is closed)
Download MAG1502.exe for Windows 2000/XP (172K) 3/17/2009 MD5: 3ADCC2B74BB935312EB4DA09D3DD86C6
Download MAG150V2.exe for Windows Vista (253K) 3/17/2009 MD5: 60A8B5551AA710D8BC9F40DBAF07508B


This updates The Magnifier.exe/MagnifierXP.exe in Vista, The Magnifier.exe in 2000/XP. This also adds MAGCTRL.EXE (Support Item IU2109120601)

Notes: The reference window setting was not checked in the show/hide action to determine if the window should be shown (so it was always shown). The Display Cursor option was properly saved, but the implementation in Vista is different than 2000/XP, so at startup the original creation of the window created the magnified cursor regardless of the saved setting. Menu handling is disabled when The Magnifier is hidden.
| | | | |
| --- | --- | --- | --- |
| Category: Using | Type: Problem/Resolution | Product: The Magnifier | Version: 1.50 |
---
Notes:
Depending on product, release version, OS version, and specific technical issue, some tech items are very specific, and some may span to other products/versions
Downloadable files can also be accessed by anonymous FTP at ftp://downloads.imgpresents.com
Older files are moved into a separate archive location - see notes/details/new location in *.archived.txt text file
---
---