IMG KnowledgeBase & Frequently Asked Questions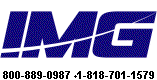 ---
Search FAQ's


Searching for ID: PU1114120717
PU1114120717
My-T-Soft (& My-T-Soft Setup) [or My-T-Touch or My-T-Pen] take a long time to appear in various versions of Windows (originally Windows 8.1 in a VMWare Virtual Machine (VM))
Update executables to resolve system font code caused delays.

Using the Startup display troubleshooting option (Command Line Options) and the help of a customer, it was determined that the AddFontResource and WM_FONTCHANGE broadcast Windows message took an extremely long time to process, which delayed the startup sequence. To bypass these system calls, the RunAddFontResource Initialization entry was re-enabled (previously marked obsolete) and used to indicate if the system font code should be run. By default, the RunAddFontResource=0, so by updating the executables, the font code is not used, and this resolved the delay problem.

To resolve this problem, download the My-T-Soft & My-T-Soft Setup (My-T-Pen & My-T-Pen Setup) (My-T-Touch & My-T-Touch Setup) executables in mtsfontfix_2014mar28.zip

Download mtsfontfix_2014mar28.zip 2.97MB 3/28/2014 (MD5: 8B8008FD6A2DE799440368967D9D644C)

Download and extract from the zip file to expand 3 folders (My-T-Soft/My-T-Pen/My-T-Touch). Within these folders are 1.78 and 1.79 versions, and a 1.80 version for My-T-Soft. Be sure to use correct version of executable based on installed product and version.

For My-T-Soft
Make sure My-T-Soft & My-T-Soft Setup are not running. Copy/overwrite MYTSOFT.exe and MTSSETUP.exe from correct version folder (plus UAC exe's for My-T-Soft 1.80) in \Program Files\MYTSOFT (or \Program Files (x86)\MYTSOFT)

For My-T-Pen
Make sure My-T-Pen & My-T-Pen Setup are not running. Copy/overwrite MYTPEN.exe and MTPSETUP.exe from correct version volder in \Program Files\MYTPEN (or \Program Files (x86)\MYTPEN)

For My-T-Touch
Make sure My-T-Touch & My-T-Touch Setup are not running. Copy/overwrite MYTTOUCH.exe and MTTSETUP.exe from correct version folder in \Program Files\MYTTOUCH (or \Program Files (x86)\MYTTOUCH)

Notes: With these executables, RunAddFontResource=1 must be set in the INI file to run the font change system code. The code was removed back in Windows 95 1.6x versions, then re-instated 1.7x versions to ensure customers that installed using zip files, or their own installation instead of the standard retail installation had access to the MYTMOUSE.FON font for proper display in smaller sizes. For a normal installation, the bypassed code is not required - it was put back in because it should be benign, and not cause any system delays, and it helped resolve a font issue for some uses of the software. If necessary, the font can always be manually installed with the system.

If you reference the original Tech item, there is a strong possibility that some process does not handle this font broadcast message correctly, or starts a sequence of extreme processing before releasing back to the system - it may be possible to identify the offending process and look for updates or fixes to the process that causes the system delay. To resolve the issue without using these executable file updates, refer to this tech item: PC1107120533

Notes: You will want to copy these files as Administrator to ensure you are updating/replacing the actual executables. Also, it is recommended that you rename the old executables so you can revert to them if desired/needed (rather than overwriting these files). Depending on the version of Windows and settings, if you download the zip, and copy the file from the Downloads area, Windows may give a warning when running the executable. You may wish to work from a different system or a network to prevent this safety mechanism.
| | | | |
| --- | --- | --- | --- |
| Category: Using | Type: Problem/Resolution | Product: My-T-Soft | Version: 1.78 1.79 1.80 |
---
Notes:
Depending on product, release version, OS version, and specific technical issue, some tech items are very specific, and some may span to other products/versions
Downloadable files can also be accessed by anonymous FTP at ftp://downloads.imgpresents.com
Older files are moved into a separate archive location - see notes/details/new location in *.archived.txt text file
---
---