IMG KnowledgeBase & Frequently Asked Questions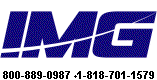 ---
Search FAQ's


Searching for ID: PI0116120855
PI0116120855
Need to run SETUP.exe with quiet (no user interface) / un-attended install option, and need Desktop and/or Startup Shortcut
The original /q or /i install options for unattended installs were done for customers wrapping the installation into their own installation approach, and the desktop/startup shortcut options were bypassed, leaving system configuration up to the master install. For customers that need this capability, an updated SETUP.exe is available that supports these options as specified in the INSTALL.XML (the existing settings are used for the standard install and indicate if the option is available, and if it is default checked (CAPS) or clear (lowercase)).

You can download a replacement SETUP.exe here:

Setup2016Sep06.zip (SETUP.EXE) 216KB (MD5: 525739BA93FC3E44A251BF5FFF143536) 9/5/2016

Download, extract, and replace SETUP.exe with the updated SETUP.exe (from zip)

Using My-T-Soft as an example, a typical install set will be SETUP.exe / INSTALL.XML / My-T-Soft.PKG (similar for other packages). To create the shortcut, the INSTALL.XML file must be changed in the GROUP Action item using the following conventions (case is used as indicator, comma is separator):
DESKTOP=Create Desktop Icon
desktop=Skip/Remove Desktop Icon
STARTUP=Create Startup Icon
startup=Skip/Remove Startup Icon
MTSICON=Use My-T-Soft keyboard Icon (My-T-Soft type installs)

As an example, the following text will create a Startup shortcut icon:

. . .
. . .
<SOURCE>
<TYPE>GROUP</TYPE>
<NAME>My-T-Soft</NAME>
<DATAFILE>desktop,STARTUP,MTSICON>/DATAFILE>
</SOURCE>
. . .
. . .

<DATAFILE>DESKTOP,STARTUP,MTSICON</DATAFILE> will create both a Desktop and Startup Icon.


| | | | |
| --- | --- | --- | --- |
| Category: Installing | Type: Problem/Resolution | Product: General Issue | Version: 1.78 1.79 1.80 |
---
Notes:
Depending on product, release version, OS version, and specific technical issue, some tech items are very specific, and some may span to other products/versions
Downloadable files can also be accessed by anonymous FTP at ftp://downloads.imgpresents.com
Older files are moved into a separate archive location - see notes/details/new location in *.archived.txt text file
---
---