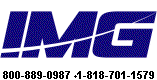 IMG Developer's Kit Version 1.90 (Includes everything available for Developers!) Download Here
Click for File and Installation Notes, Release Notes, and/or Support Notes
See "How do I...?" Section Below...
Most Requested Information
For PDF versions of this document, use the links in the Developer's Corner Download area. Refer to IMG's website for purchasing as a book.
How Do I...?
Note: This section represents the Developer's Corner page on the IMG website, but is also represented in the Manual and Help provided with the IMG Developer's Kit itself. This section is intended primarily to be accessed via a web browser interface, direct from IMG's website. In order to maintain all information pertaining to the IMG Developer's Kit in a single source, certain aspects of this section may seem inconsistent or out of place depending on how and where it is accessed. The website information may be concurrent with this document, or newer.













As seen in ...