Download TouchRight Utilities
TouchRight Utilities Frequently Asked Questions
TouchRight Utilities Technical Support
View TouchRight Utilities Literature (PDF)
View Order Pad
---
TouchRight Utilities User's Guide
TouchRight Utilities User's Guide (Manual PDF)
TouchRight Utilities User's Guide (EBook PDF)
TouchRight Utilities User's Guide (US Letter PDF)
TouchRight Utilities User's Guide (A4 PDF)
---
Return to IMG Products
IMG's Commercial Products
Return to IMG Home Page
TouchRight Utilities
An easy interface for bringing Right Click capabilities to ANY Touchscreen or Pen based interface. Great for users, developers, integrators, field service personnel or administrators who work with and configure pen or touchscreen applications.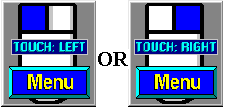 Why do I need this?
Most touchscreen drivers enable a "touch" or "press" to act as the left button click of a mouse. The act of pointing is very intuitive on a touchscreen, i.e. you point! To interface with windows, the act of "touching" the screen is converted into a left click (as though you used the mouse to point to the button / area) and then "clicked" to select / press button. Since the screen IS the interface, there is no intuitive way to implement a Right-Click (No, you cannot use your other hand!). However, using the Right-Click can be important when working with systems, so by using "TouchRight", you can easily access the system by changing back and forth between Left Click and Right Click!

The window itself can be sized and repositioned anywhere on the screen, can be optionally hidden until called for, and provides various other capabilities as required by customers.
How to I right click?
On a standard touchscreen with a standard driver, you can't easily. But with "TouchRight" a simple touch turns your touch into a Right Click instead of a Left Click. Touch again, and you're back to the standard Left Click (or automatically).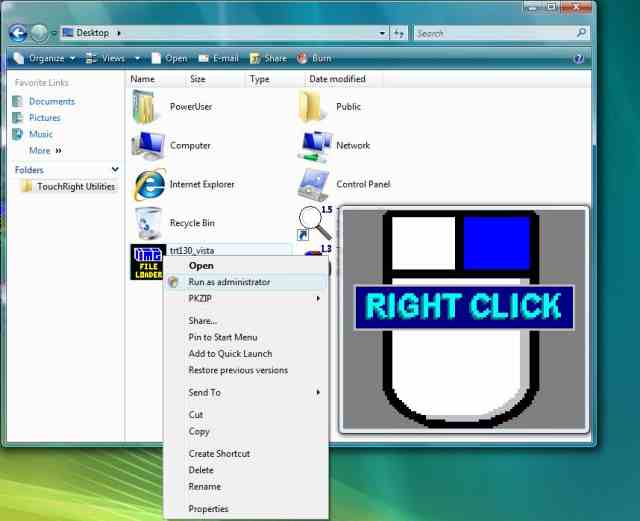 What else do I get?
The TouchRight Utilities includes various useful functions:
Always Topmost - this feature keeps the touchright window visible for easy access, but can be turned off when you want your screen real-estate back!
Hide until Taskbar Active - this allows you to hide the window to retrieve full screen visibility, but by simply clicking on the Windows Taskbar, you can immediately see the TouchRight window again! (New in 1.20)
Single Right-Click Only - this option automatically returns to the default Left-Click after a single Right-Click action - great for quick "clicking"
The ability to Shutdown Windows, Exit (Logoff) Windows, and reboot your system are available.
Software Requirements
Windows 7 / Vista / XP / 2000. Older versions available for older versions of Windows.
Compatible
Works with ANY Pen or Touchscreen - Easy to use!

TouchRight Utilities Suggested Retail Price is US $49.95.
Windows 7 / Vista / XP / 2000
Catalog #: 12101