Downloads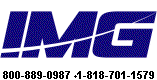 ---
This is a comprehensive list of all IMG product downloads - the current version, older versions, etc. Please verify your selection before downloading and installing.
Select the product in the list below to quickly go to the appropriate section, or scroll down to view all available downloads.
---
---
Downloading Notes: When prompted by your browser, select Save To "Disk" and Save to your "Desktop", so you can find your file after downloading.
Most of the downloads will self-extract & self-install when the downloaded file is launched. Enjoy!
(If you need assistance, please contact IMG Technical Support)
Self-Extracting / Self Installing Download notes:
After the download is completed, use Windows Explorer to go to your desktop (or download folder), and then find and highlight the downloaded file. Double-click, Enter, or Right-click then Open to launch file. File will uncompress and automatically run a Setup utility to install the program on your hard disk. You may re-run the downloaded file to use the Uninstall option in the Setup program if desired. After Uninstall, delete the Downloaded file to remove all components.
---
---
---
---
---
---
---
---
---
---
---
---
---
---
---
---
---
---
---
---
---
---
---
---
---
---
---
---













As seen in ...