IMG KnowledgeBase & Frequently Asked Questions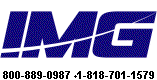 ---
Search FAQ's


Searching for ID: QC1205120351
QC1205120351
Can I get CrossScanner without OnScreen?
Not from IMG - IMG is only licensed to sell CrossScanner with OnScreen. Since most users of CrossScanner will have the need to enter text from time to time, having OnScreen available will be very useful.
Original ID: QC101265
| | | |
| --- | --- | --- |
| Category: Common | Type: Question/Answer | Product: OnScreen |
---
Notes:
Depending on product, release version, OS version, and specific technical issue, some tech items are very specific, and some may span to other products/versions
Downloadable files can also be accessed by anonymous FTP at ftp://downloads.imgpresents.com
Older files are moved into a separate archive location - see notes/details/new location in *.archived.txt text file
---
---













As seen in ...