IMG KnowledgeBase & Frequently Asked Questions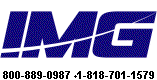 ---
Search FAQ's


Searching for ID: PU1706120461
PU1706120461
In Windows 2000/Windows XP, after installing Joystick-To-Mouse, prior to logon, the cursor drifts. You do not need/want Joystick-To-Mouse to operate/move the cursor at the logon screen.
In the 2.60 version, by default, Joystick-To-Mouse installs & starts a service (IMG Joystick-To-Mouse Service) to allow a joystick to interact in the WinLogon secure desktop (e.g. prior to logon/user authentication). To remove/stop this default action, do the following: As a Computer Administrator, logon and go to Control Panel - in Services (Administrative Tools), find the IMG Joystick-To-Mouse service. Set this service to manual or disable the service.

Joystick-To-Mouse allows an individual who can only use a joystick to fully operate windows. In order to accommodate this type of user, the need to also operate the mouse cursor from within the secure logon screen may be required. Due to security & architectural issues, the IMG Joystick-To-Mouse service is the software component that enables this capability. If this action is not desired, this service may be controlled from within Windows.
| | | | |
| --- | --- | --- | --- |
| Category: Using | Type: Problem/Resolution | Product: Joystick-To-Mouse | Version: 2.60 |
---
Notes:
Depending on product, release version, OS version, and specific technical issue, some tech items are very specific, and some may span to other products/versions
Downloadable files can also be accessed by anonymous FTP at ftp://downloads.imgpresents.com
Older files are moved into a separate archive location - see notes/details/new location in *.archived.txt text file
---
---