IMG KnowledgeBase & Frequently Asked Questions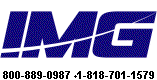 ---
Search FAQ's


Searching for ID: IU2109120601
IU2109120601
When using The Magnifier on a public computer, or in a situation where new users may see a magnified image (rather than the standard Windows desktop they are expecting), here is a toolbar that provides an easy to see & understand interface to control basic functions of The Magnifier.
Download The Magnifier Toolbar as MAGCTRL.EXE (2/24/2009) (788KB) (MD5: BCFC47297E1B9BA71783DC37BF1BECA9)
This is a toolbar that provides a taskbar icon, images or text, and a fixed or sizable toolbar that controls the following basic functions on The Magnifier:


Toggle Show and Hide The Magnifier
Toggle Full Screen and windowed mode
Switch between 2x and 3x Magnification
Increase Magnification
Decrease Magnification
Close Toolbar and The Magnifier

This is a utility that can be run directly (or from the Windows StartUp group), and it will automatically run The Magnifier. This places a visible icon on the taskbar, and provides a sizable toolbar that can be minimized when not needed. For situations where users may access a public computer, and not be familiar with The Magnifier software, this provides an easy to use, understandable way to control basic functions of The Magnifier.

Settings are saved automatically per user when closed. When launched, it will also run The Magnifier. There is a separate System Menu option to close the Toolbar (without closing The Magnifier). Users can also select between a fixed size / graphical icon toolbar, Float above other windows (Topmost setting), or a sizable / text based toolbar from the System Menu.

This will be included in The Magnifier 1.50 Release 3. It is included here for current users and those that are running earlier releases and need or desire this functionality.
| | | | |
| --- | --- | --- | --- |
| Category: Using | Type: Information | Product: The Magnifier | Version: 1.50 |
---
Notes:
Depending on product, release version, OS version, and specific technical issue, some tech items are very specific, and some may span to other products/versions
Downloadable files can also be accessed by anonymous FTP at ftp://downloads.imgpresents.com
Older files are moved into a separate archive location - see notes/details/new location in *.archived.txt text file
---
---