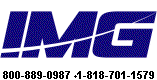 INNOVATION MANAGEMENT GROUP, INC. END USER LICENSE AGREEMENT
Read the following terms & conditions carefully. Your use of this product acknowledges that you have read this Agreement, understand it, and agree to be bound by its terms and conditions.
This is a legal Agreement between you, the end user, and Innovation Management Group, Inc. (IMG). If you do not agree to the terms of this Agreement, you may return the disk package and all accompanying items within 10 days to IMG for a refund, less a 20% restocking fee. If you purchased this product through a reseller, dealer, or distributor, consult them for their return policy.
This is a single copy per cpu / single user version. You may, however, use this Software on a network, which is a configuration of more than one terminal that is linked and capable of sharing the use of Software, provided that only one user at a time uses it, and that that user has possession of the License Key / Certificate, or original disk & manual during its use. For multiple user use, a Site License must be purchased separately from IMG.
The product may be provided on either a 3-1/2" or 5-1/4" diskette, a CD-ROM or DVD disc, or via electronic format. You may use this program on your computer only. You may NOT use this disk on any other computer, or loan, rent, lease, sell, or transfer it to another user.
THIS SOFTWARE IS PROVIDED "AS IS" WITHOUT WARRANTY OF ANY KIND, EITHER EXPRESS OR IMPLIED, INCLUDING BUT NOT LIMITED TO, THE IMPLIED WARRANTIES OF MERCHANTABILITY AND FITNESS FOR A PARTICULAR PURPOSE. YOU ASSUME THE ENTIRE RISK AS TO THE RESULTS AND PERFORMANCE OF THE SOFTWARE. THIS WARRANTY GIVES YOU SPECIFIC LEGAL RIGHTS, AND YOU MAY ALSO HAVE OTHER RIGHTS WHICH VARY FROM STATE TO STATE, SOME STATES DO NOT ALLOW THE EXCLUSION OF IMPLIED WARRANTIES, SO THE ABOVE EXCLUSION MAY NOT APPLY TO YOU.
In consideration of the payment of a license fee, you are granted a personal, non-transferable, and non-exclusive license to use the Software under the terms stated in this Agreement. You own the diskette or other physical media on which the Software is provided under this Agreement, but all title and ownership of the Software, and all other rights not granted to you under this Agreement remain with IMG.
IMG warrants that the media on which this Software is furnished to you to be free from defects in materials and workmanship for a period of 90 days from the date of purchase. IMG does not warrant that the Software operation will be uninterrupted or error free.
IN NO EVENT WILL IMG BE LIABLE FOR ANY SPECIAL, INCIDENTAL, CONSEQUENTIAL, INDIRECT, OR SIMILAR DAMAGES ARISING OUT OF THE USE OR INABILITY TO USE THIS SOFTWARE, OR FOR ANY OTHER CLAIM BY ANY OTHER PARTY, EVEN IF IMG OR AN AGENT AS BEEN ADVISED OF THE POSSIBILITY OF SUCH DAMAGES.
This Agreement is governed by the laws of the State of Nevada (except Federal law regarding copyrights and registered trademarks). If any provision of this Agreement is found invalid by any court having jurisdiction, it will not affect the validity of the balance of this Agreement, which shall remain valid and enforceable according to its terms and conditions.
U.S. GOVERNMENT RESTRICTED RIGHTS
The SOFTWARE and manual are provided with RESTRICTED RIGHTS. Use, Duplication, or disclosure by the Government is subject to restrictions as set forth in subparagraph (c)(1)(ii) of the Rights in Technical Data and Computer Software clause at DFARS 252.227-7013 or subparagraphs (c) (1) and (2) of the Commercial Computer Software-Restricted Rights at 48 CFR 52.227-19, as applicable. Contractor/manufacturer is Innovation Management Group, Inc.
Should you have any questions concerning this Agreement, please contact Innovation Management Group, Inc. 5348 Vegas Bld. #285, Las Vegas, NV 89108 (818) 701-1579.
---













As seen in ...