Download My-T-Pen On-screen Keyboard
My-T-Pen Frequently Asked Questions
My-T-Pen On-screen Keyboard Technical Support
View My-T-Pen On-screen Keyboard Literature (PDF)
View Order Pad
---
My-T-Pen User's Guide
My-T-Pen User's Guide (Manual PDF)
My-T-Pen User's Guide (EBook PDF)
My-T-Pen User's Guide (US Letter PDF)
My-T-Pen User's Guide (A4 PDF)
---
Return to IMG Products
IMG's Commercial Products
Return to IMG Home Page
My-T-Pen US Standard 104 Keyboard Layout with Edit, Numeric & Control Panel Open (shown in size 8)
My-T-Pen provides a natural, intuitive extension to the pen based interface. My-T-Pen provides On-Screen keyboard emulation that works with ANY Windows program. Ideal for network logons, security passwords, ID authentication, production quantity entry, notes, name entry, and a variety of other uses that completes custom applications with pen-based systems.
My-T-Pen is a Windows software program that provides a powerful interface through a pen based pointing device by providing on-screen keyboards, user programmable macros, and complete control over all computer functions.
By allowing systems to operate without the need for a physical keyboard, external templates, membranes, or buttons, My-T-Pen can provide the finishing touch on sealed systems that only requires the pen-based interface for user input.
My-T-Pen uses a concept found in fighter planes, helicopters, tanks, and automobiles. That concept is called "Heads Up Display" technology and its principal objective is to keep the users focus and concentration centered in one place. My-T-Pen uses that concept to reduce the visual re-focusing and re-positioning, caused by the heads up and down motion of going from screen to keyboard to screen, and the resulting confusion it causes.
New Features in My-T-Pen!
Support for Windows 7 / Vista
Version match to My-T-Soft and My-T-Touch
Workstation / Network Logon Options - both Windows 7 / Vista and XP/2000
Even more layouts, now over 200 keyboards providing worldwide coverage
Integrated support for Build-A-Board keyboard layouts
New configurable location options for users - private or shared
More Integrator options
Developer Kit add-ons - options to integrate DLLs with My-T-Soft, Logging capabilities
Configuration saving options - after move, after change, at close, at end of session
Numerous customer requested enhancements & updates
Over 200 "Heads-Up Display" Infinitely Sizeable Keyboards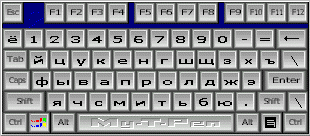 ABCD Alphabetical, QWERTY, 3 DVORAK's, and over 200 International layouts [Chinese, Japanese, Korean, German, Spanish, French, Hebrew,
Russian (shown right in size 8), Greek, etc.] with Edit and Numeric panels.
Minimize Keystrokes, Mouse Clicks and Menu Selections




Store up to 2000 keystrokes/menu selections (or the applications macro scripts) on each button. Up to 15 buttons can be grouped on individual Panels, which auto-open when their assigned application becomes active.
Shown Left (far): My-T-Pen with standard Macro panel open in size 9.
Shown Left (near): My-T-Pen with Macro panel open in size 7 with customized color option.
Shown Right (near): My-T-Pen with standard Windows panel open in size 9.
Shown Right (far): My-T-Pen with Windows panel open in size 7 with customized color option

Assignable Functions for Pointing Device Buttons
Assign any of 63 different functions to each button. Popular keys such as Shift, Esc, Enter, Ins, Ctrl, etc, can be assigned at anytime
Pop-Up Calculator with pop-up Tape and Send Function
A standard 4 function calculator with memory, that always stays on top, has its own pop-up Tape and Send function that places the display information right into your current document or field (shown in size 9).

Built in Magnifier

If necessary, a built-in Magnifier panel can be displayed to show a magnified view of the current area (mouse cursor as center).
Developer friendly

Show & Hide keys, program keys in Key Options, Custom logo display, Operator mode, on-demand functionality. The Developer's Kit comes with all kinds of utilities, source code, sample code, and a wealth of information for integrating My-T-Pen with your own application.


My-T-Pen Keyboard with Show & Hide keys and custom logo over tool bar in size 9.
Customized Colors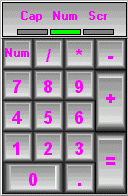 From Left: Num Keypad with custom colored text in size 10, My-T-Pen keyboard with custom colored background and control panel open in size 8. Color Support includes: Button text, Button face, Button highlight, Button shadow, and Keyboard background.
Customized Painting

Using the Developer's Kit (1.78 Release 3) with My-T-Pen 1.78 Release 2, you can modify the default key background, paint the key background, and paint the key labels. By using internal key values & keyboard info, you can do small scale modifications, or large scale modifications to the visual display of My-T-Pen!
Build-A-Board Samples
IMG's latest release of My-T-Soft, My-T-Pen, and My-T-Touch allows you to use custom keyboard layouts created with IMG's Build-A-Board.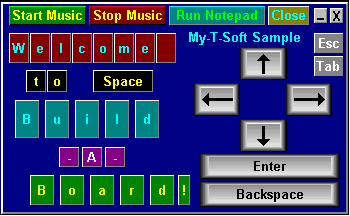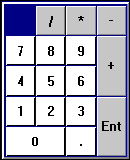 My-T-Pen Suggested Retail Price is US $99.95.
Version Match to My-T-Soft and My-T-Touch
Windows 7 / Vista / XP / XPEmbedded / 2000
For Older Versions, refer to Catalog
Catalog #: 11581
OEM/VAR Customized Versions and Network / Site Licenses available