IMG KnowledgeBase & Frequently Asked Questions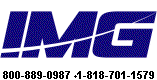 ---
Search FAQ's


Searching for ID: QU2108120582
QU2108120582
Alt-= and Alt-- (typed from the horizontal row of digits and to the right of the 0) work to increase or decrease the magnification by .1. When I try to use Alt-+ and Alt--(minus) from the number pad, it doesn't work. Why Not?
The top row of keys was specifically chosen because of the Alt-1 thru Alt-9 instant magnification settings, which are on the top row of the keyboard. The Magnifier is specifically is looking for those physical keys on the top row, not the simply the characters - / +. It comes down to what The Magnifier is looking for - it is not looking at characters, it is looking at the VK_OEM_PLUS & VK_OEM_MINUS keys (Virtual Keys as handled by a normal keyboard which is handled internally by Windows). In other words, the supported keys are the top row keys, not any + or - keys.

You can use Alt-M to open the custom magnification dialog, and select your desired magnification, or use the keys supported by The Magnifier.

The whole issue of hot-keys raises many issues, including compatibility with other software (i.e. conflicts when different programs use the same hot-key combination), user customization, etc., etc. The Magnifier uses hot-keys in a straightforward manner - these are the hot keys, you have 3 options (Alt, Alt-Shift, or Ctrl-Shift), and that is it. There are multiple ways to control the magnification, as outlined above, and through the menu.
| | | | |
| --- | --- | --- | --- |
| Category: Using | Type: Question/Answer | Product: The Magnifier | Version: 1.50 |
---
Notes:
Depending on product, release version, OS version, and specific technical issue, some tech items are very specific, and some may span to other products/versions
Downloadable files can also be accessed by anonymous FTP at ftp://downloads.imgpresents.com
Older files are moved into a separate archive location - see notes/details/new location in *.archived.txt text file
---
---