IMG KnowledgeBase & Frequently Asked Questions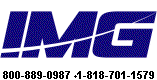 ---
Search FAQ's


Searching for ID: QU1709120618
QU1709120618
We are attemping to get the joystick (Attack 3 by Logitech) to work with AutoCad r.2010. Upon opening a drawing in AutoCAD, the command is automatically issued to z and it continues to zoom in until it is unable to zoom any further. This is without any user input. How can this be controlled? Can it be stopped? The product does work with Office and the internet.
Also, generic problem with Automatic scrolling or text moving up & down without any input from Joystick.
It may be the mouse wheel commands controlled by the Z axis (often Throttle controls on a flight-type joystick) or Point of View hat. Set any throttle control to 0 or to one extreme and see if this resolved the effect. You may need to go into the Advanced options, and look at Button Settings - also Advanced Settings from there. I would suggest you review what input causes the zoom in AutoCad, then see if one of the default options in Joystick-To-Mouse is set there. Check any toggle buttons, or "locked" settings on the joystick itself, as these might be the "constant" input you are seeing. Note on some joysticks the "z" axis is the rotation of joystick itself, or there is a throttle, etc. Because of the different types of joysticks, and the multitude of settings in Joystick-To-Mouse, sometimes errant behavior occurs. But you should be able to remove or disable the setting (or set to something benign).
---
Notes:
Depending on product, release version, OS version, and specific technical issue, some tech items are very specific, and some may span to other products/versions
Downloadable files can also be accessed by anonymous FTP at ftp://downloads.imgpresents.com
Older files are moved into a separate archive location - see notes/details/new location in *.archived.txt text file
---
---