IMG KnowledgeBase & Frequently Asked Questions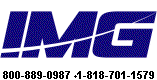 ---
Search FAQ's


Searching for ID: QU1706120473
QU1706120473
How do I configure Joystick-To-Mouse for my digital Oral Camera?
In Joystic-To-Mouse 2.70 and later, you can set the Relative Mode Speed setting at 0 (Zero) so the registry update is not needed. Also note the following:
- Your button settings should be all set to Ignore Button Press except for the actual button or buttons used
- In Advanced, Button, Advanced Button Settings | Advanced Settings, be sure Enable Enhanced Settings is clear (Off)

For Joystick-To-Mouse 2.60, refer to the following:
First make sure you do not have Joystick-To-Mouse running. If you do, Stop Joystick-To-Mouse with the Stop button in the Menu Selections box. Next, Download JTMSPEED.REG (1K) (MD5: CB316BA60CD6256A00C7E2B58F2A4DEE) (Be sure to remember where you download the file). Right-click on JTMSPEED.REG and choose Merge to update the registry. This will set the SpeedX=0 and SpeedY=0 so the cursor control stays with the mouse. Now run Joystick-To-Mouse. The cursor should be stable. Pop-up the Menu Selections Box in Joystick-To-Mouse. Choose Button Settings. For Button 1, click on the down arrow and choose Macro 1. In the Macro 1 window below Button 1 choose Build. Remove any current text in the Keystroke Macro window. In the lower section of choices, find the [Alt-Down] [Alt-Up] window group. Scroll down to the [F5] (or whatever keystroke(s) you need) and double-click on it. This should put that [F5] (or other keystroke macro) in the upper Macro window. Click OK, OK, and OK to save your settings. If Joystick-To-Mouse is OFF, open the menu again and choose Start Joystick to turn it ON. To make sure Joystick-To-Mouse starts each time the computer starts, choose Program Options from the Menu Selections. Then check the - Automatically Start Joystick control when Joystick-To-Mouse begins- option. Your Oral Camera button or footpedal switch should now function correctly.
| | | | |
| --- | --- | --- | --- |
| Category: Using | Type: Question/Answer | Product: Joystick-To-Mouse | Version: 2.60 2.70 |
---
Notes:
Depending on product, release version, OS version, and specific technical issue, some tech items are very specific, and some may span to other products/versions
Downloadable files can also be accessed by anonymous FTP at ftp://downloads.imgpresents.com
Older files are moved into a separate archive location - see notes/details/new location in *.archived.txt text file
---
---