IMG KnowledgeBase & Frequently Asked Questions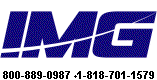 ---
Search FAQ's


Searching for ID: QU1607120571
QU1607120571
When I used Build-A-Macro to make a very simple macro panel with just those five operations, the Up, Down, PgUp, and PgDn all worked. However the Ctrl-G did not open the channel guide - it did nothing that I could see. I added some more keys to try alternatives and tried these action codes:
[Ctrl-Down]G[Ctrl-Up]
~~G
Why won't these work?
The issue is pretty simple - Ctrl-Shift-g is not the same as Ctrl-g. There are mentions in various places about lowercase being preferred, but this problem is inherent in computers doing what they are told. To generate a capital letter from a physical keyboard, the shift key needs to be held down, and when the macro handling part of the software sees an uppercase character it faithfully generates the sequence of keystrokes necessary to create the letter. When doing straight text, e.g. "Hello World" - ",Shift-h,e,l,l,o, Shift-w,o,r,l,d" this works just fine, all is well, and everyone is happy. When trying to use control/alt type sequences, this can sometimes cause problems, as the extra shift state causes the underlying application to treat it differently. To get a keystroke for g, and g alone, you must specifcy "g" in the macro, NOT G. G generates a [Shift-Down]g[Shift-Up] macro sequence. Therefore [Ctrl-down]G[Ctrl-Up] generates [Ctrl-down][Shift-Down]g[Shift-Up][Ctrl-Up], not the [Ctrl-Down]g[Ctrl-Up] sequence you want.

Some apps work fine in either upper or lower case, but when the app doesn't, you must stick with the lowercase letter in the macro.
| | | | |
| --- | --- | --- | --- |
| Category: Using | Type: Question/Answer | Product: My-T-Touch | Version: 1.77 |
---
Notes:
Depending on product, release version, OS version, and specific technical issue, some tech items are very specific, and some may span to other products/versions
Downloadable files can also be accessed by anonymous FTP at ftp://downloads.imgpresents.com
Older files are moved into a separate archive location - see notes/details/new location in *.archived.txt text file
---
---