IMG KnowledgeBase & Frequently Asked Questions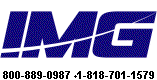 ---
Search FAQ's


Searching for ID: PC1308120592
PC1308120592
Using My-T-Soft TS keyboard on a terminal from GE Fanuc / Intellution iFix, My-T-Soft TS version 1.73, after a period of time, software types "demo" and must be stopped and restarted.
Use updated MYTSOFT.EXE

IMPORTANT: This may only be used in conjunction with Intellution's iFix, etc. This is only provided here as a convenience for IMG's My-T-Soft users. ALL TECHNICAL SUPPORT ISSUES WITH THIS VERSION SHOULD REFER TO GE Fanuc Automation / Intellution.

Download MYTSOFT.EXE (zipped as MTS173INT.ZIP) 140K 9/4/08 (MD5: E8441D9CAD63132C6A0A769BBC355ECE)
Instructions:
1) On the server, Go into the IMG License Manager (Licensing Information icon), and "Stop" the service. You may leave this open. In several minutes all My-T-Soft keyboards and MYTSOFT.EXE processes will close.
2) From the Command Prompt (CMD) or Windows Explorer, go into the MYTSOFT folder (\Dynamics) (or current location of MYTSOFT.EXE).
3) Rename MYTSOFT.EXE to MYTSOFT.173
4) Copy / extract the new MYTSOFT.EXE from the downloaded file and place updated MYTSOFT.EXE into the MYTSOFT folder
5) From the License manager, Select "Start"
Notes:
This update should only be applied if you experience the problem listed above. If there is any issue with the update, please revert back to the original file (e.g. rename MYTSOFT.173 to MYTSOFT.EXE) & contact IMG Technical Support.
This fix was incorporated at the 1.75 release of My-T-Soft TS. This specific version is ONLY for users running the older GE Fanuc / Intellution iFix 1.73 version.
| | | | |
| --- | --- | --- | --- |
| Category: Common | Type: Problem/Resolution | Product: My-T-Soft TS | Version: 1.73 |
---
Notes:
Depending on product, release version, OS version, and specific technical issue, some tech items are very specific, and some may span to other products/versions
Downloadable files can also be accessed by anonymous FTP at ftp://downloads.imgpresents.com
Older files are moved into a separate archive location - see notes/details/new location in *.archived.txt text file
---
---