IMG KnowledgeBase & Frequently Asked Questions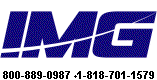 ---
Search FAQ's


Searching for ID: IU2107120572
IU2107120572
The only problem is, that I found no way to enlarge the mouse cursor, which is very important for people with that handicap [visual impairment]. Is it possible to somehow enlarge the mouse cursor with your software?
I need help finding the mouse cursor - what are my options in The Magnifier?
One option, developed with help from a customer, are the Cursor Lines (Alt-N). These can be turned on (or toggled) in The Magnifier which help locate the mouse pointer. You can set the size, color, and optionally animate them to find the mouse cursor. These can be toggled on or off with the Alt-N keyboard shortcut.

You can use Alt-C to toggle the display of the cursor in the magnified window (There are some differences in appearance available between Vista and 2000/XP ).

You can refer to more details on the cursor options here

Also, if you go into Control Panel | Mouse properties, and look at the Pointers tab, there are various schemes available - several are larger.

There are some limitations on what is possible due to the approach used by The Magnifier software, but hopefully one of the above options will address your requirements.
| | | | |
| --- | --- | --- | --- |
| Category: Using | Type: Information | Product: The Magnifier | Version: 1.50 |
---
Notes:
Depending on product, release version, OS version, and specific technical issue, some tech items are very specific, and some may span to other products/versions
Downloadable files can also be accessed by anonymous FTP at ftp://downloads.imgpresents.com
Older files are moved into a separate archive location - see notes/details/new location in *.archived.txt text file
---
---