IMG KnowledgeBase & Frequently Asked Questions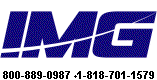 ---
Search FAQ's


Searching for ID: IU1710120636
IU1710120636
I selected a preset and now I am having problems (buttons, cursor drift, etc.)
In any release of Joystick-To-Mouse 2.70 Release 4 or earlier, the preset are not in sync with the settings, and so selecting one will cause incorrect values for arbitrary settings. Do not use preset selections on these releases. If you have done this and are having problems, please do the following:
- Make sure Joystick-To-Mouse is closed
- As an Administrator, run Regedit.exe
- Delete the Key HKEY_CURRENT_USER/Software/Innovation Management Group/Joystick-To-Mouse
- Close Regedit, and retry Joystick-To-Mouse - defaults will be used, and you can change speed or button settings to your preferred configuration.
Note: If you are running direct from the INI (DoNotUseRegistry is set), copy JOY2MSE.ORG to JOY2MSE.INI, then set DoNotUseRegistry=1
If unable to run Regedit, you can also resolve this is by uninstalling, then re-installing the software (to copy in the correct initial settings).
| | | | |
| --- | --- | --- | --- |
| Category: Using | Type: Information | Product: Joystick-To-Mouse | Version: 2.70 |
---
Notes:
Depending on product, release version, OS version, and specific technical issue, some tech items are very specific, and some may span to other products/versions
Downloadable files can also be accessed by anonymous FTP at ftp://downloads.imgpresents.com
Older files are moved into a separate archive location - see notes/details/new location in *.archived.txt text file
---
---