IMG KnowledgeBase & Frequently Asked Questions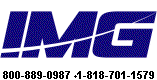 ---
Search FAQ's


Searching for ID: IG2010120643
IG2010120643
Build-A-Board 2.20
The 2.20 release of Build-A-Board is the first to include targets for Linux, UNIX, and Mac OS X, along with Windows (95 thru 7) and Windows CE. It also is fully Unicode compliant, supports images on panels and keys, and provides many enhancements over the 2.10 capabilities. Custom on-screen keyboards and visual interfaces can be quickly and easily built, and then deployed on any supported target system. Application Integration is also easy & quick using the IMG Developer's Kit. Refer to the product pages or contact IMG for deployment and license options.

License Options

Build-A-Board 2.20 will still support run-time license options for users that need only 1 or a small number of licenses. The platform license options are based on company size and type of rollout required. Platform licenses cover the deployment OS, and are royalty free per device.

Because of the wide range of customers and differing requirements, we offer a wide range of license and usage options - if you don't see a satisfactory option, please contact IMG directly.
| | | | |
| --- | --- | --- | --- |
| Category: General | Type: Information | Product: Build-A-Board | Version: 2.20 |
---
Notes:
Depending on product, release version, OS version, and specific technical issue, some tech items are very specific, and some may span to other products/versions
Downloadable files can also be accessed by anonymous FTP at ftp://downloads.imgpresents.com
Older files are moved into a separate archive location - see notes/details/new location in *.archived.txt text file
---
---