IMG KnowledgeBase & Frequently Asked Questions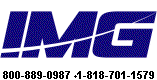 ---
Search FAQ's


Searching for ID: ID0209120603
ID0209120603
A step-by-step guide on using the PaintDLL customized painting aspect of My-T-Soft / My-T-Touch / My-T-Pen
Steps required to do customized painting
My-T-Touch used as an example




1) Download and install [and license if a permanent install] My-T-Touch
2) Install Developer's Kit

Go to Start Menu | Programs | My-T-Touch | Install Developer's Kit
If installed from CD, you can skip the update section that follows:
Check for Updates
Select "IMG Developer's Kit 1.78 Release 3"
Click on Next, then Next
Then click Finish, and then OK after finished downloading
Now: Extract Developer's Kit

3) Review the Paint DLL docs in the Developer's Kit Help for reference & more details on the following steps
4) Modify MYTTOUCH.INI

Go into My-T-Touch Setup | Configuration | Special Options | Edit My-T-Touch Initialization File
Then copy and paste this (from the Paint DLL overview in the Developer Kit documentation) into MYTTOUCH.INI at the end:

[PaintDLL]

DLLName=%PRODDIR%\PaintDLL\Release\PaintDLL.DLL
PaintFrame=1
PaintFrameFunc=PaintDLLPaintFrame
PaintKey=0
PaintKeyFunc=PaintDLLPaintKey
PaintKeyBackground=1
PaintKeyBackgroundFunc=PaintDLLPaintKeyBackground
PaintKeyModBackground=0
PaintKeyModBackgroundFunc=PaintDLLPaintKeyModBackground
PaintKeyLabel=1
PaintKeyLabelFunc=PaintDLLPaintKeyLabel


Now Save the file
5) Make a few other changes in My-T-Touch Setup

Configuration | Keyboards | 104 United States Standard
Configuration | Size | 11, then OK
Configuration | Panels | Check 2 panels: Keyboard (ABC) Panel, and Edit Panel
then OK, OK, Exit

6) Open Visual Studio 6, or 2005, or 2008, and build PAINTDLL.DLL (make sure the Release folder matches the build location if converting to something newer than Visual Studio 6).

Copy the PaintDLL\GrayKeys bitmaps into the PaintDLL folder (save the reddish key bitmaps to a subfolder if you wish to use these) (or make your own)

Open the workspace PaintDLL.dsw (or convert)

Now build the project (Build | Rebuild All) / solution (make the file PAINTDLL.DLL)
Based on the DLLName entry used above, it should end up here: \Program Files\MYTTOUCH\PaintDLL\Release\PaintDLL.DLL

7) Run My-T-Touch

Here you can go into the menu (right-click Menu | Current Settings | Panels | Clear Tool bar), and you will have the keyboard shown on the website

If the programming aspect is beyond your skills, too difficult, or not desirable, then you can review options in IMG's Build-A-Board. Also, please feel free to contact us with your requirements. Note that graphics and making really neat looking keyboards has never been a high priority from our customers in the 16 years we've been providing on-screen keyboards. Almost all of our customers want (or demand) highly reliable, functional software. Because of the myriad of different systems, with vastly different video and graphics capabilities, keeping the graphics simplistic and functional have been more important than producing visual effects - eye-candy and visual display is relatively easy, while producing highly reliable software for all types of environments is a challenge. Even as recent as 2008 we've had customer issues with the built-in 3D key display option (due to rendering speed). Since many older systems and low cost systems don't have high powered video subsystems, keeping things simple seems to work better in practice.
| | | |
| --- | --- | --- |
| Category: Integrating(Developing) | Type: Information | Product: Developers Kit |
---
Notes:
Depending on product, release version, OS version, and specific technical issue, some tech items are very specific, and some may span to other products/versions
Downloadable files can also be accessed by anonymous FTP at ftp://downloads.imgpresents.com
Older files are moved into a separate archive location - see notes/details/new location in *.archived.txt text file
---
---